Sam Claflin, Max Irons and Douglas Booth indulge in the posh privleges of "The Riot Club" at Oxford University as seen in the first trailer for the Lone Scherfig-directed dramatic thriller.
Originally titled "Posh" and based on Laura Wade's 2010 play, "The Riot Club" centers on two first-year students, Alistair (Claflin) and Miles (Irons), who join the fictional elite dining society at Oxford University, known as the Riot Club, where reputations are easily vulnerable and prestige is always at stake. The trailer, which kinda reminds me of David Fincher's "The Social Network (if it were set in Oxford rather than Harvard), starts off by giving us a completely superficial look at the club members' riotous and excessive lives. About halfway through, however, it starts showing the less glamourous side of the club, after an incident occurs that causes trouble among the club members, which reinforces the idea of how those in power can easily be susceptible to corruption.
"The Riot Club," which also stars fellow up-and-coming Brits Jessica Brown Findlay, Holliday Grainger, Natalie Dormer, and Olly Alexander, is due on September 19 in the U.K. A North American release, however, has yet to be revealed. Check out the film's excellent first trailer below!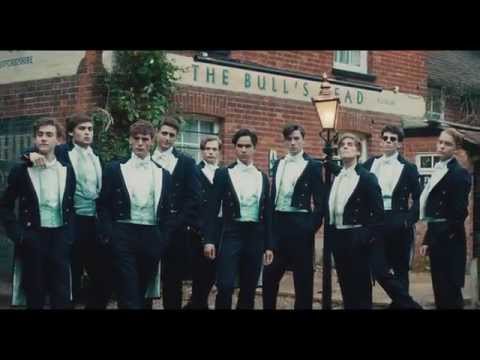 Tags : douglas booth, holliday grainger, jessica brown findlay, max irons, natalie dormer, olly alexander, posh, sam claflin, The Riot Club